These packages have been created to help you pick a package thats suitable for your venue and budget. All packages can be adapted to your requirements, from small functions to the full set up service. We are here to help, so if your planning an event and want some assistance or its just all to much and is leaving you feeling overwhelmed by the whole process.... just get in touch. On your first consultation we will go through your requirements and then we can work out what style and theme you would like to create. Have a look throuh our packages and see if there is one thats suitable or close to your requirements, Along with our reliable suppliers, listed at the bottom of the page. We offer a complete decorating package with a low deposit from £25+ and payments plans are available to help spread the cost. We will then work along side you and arrange as little or as much as you require. To book a free consultation with a no obligation quote please contact us below or call Lisa on 07729188827 mon-fri 9.30-5pm. seperate deposits will be required for other suppliers.prices to confirm.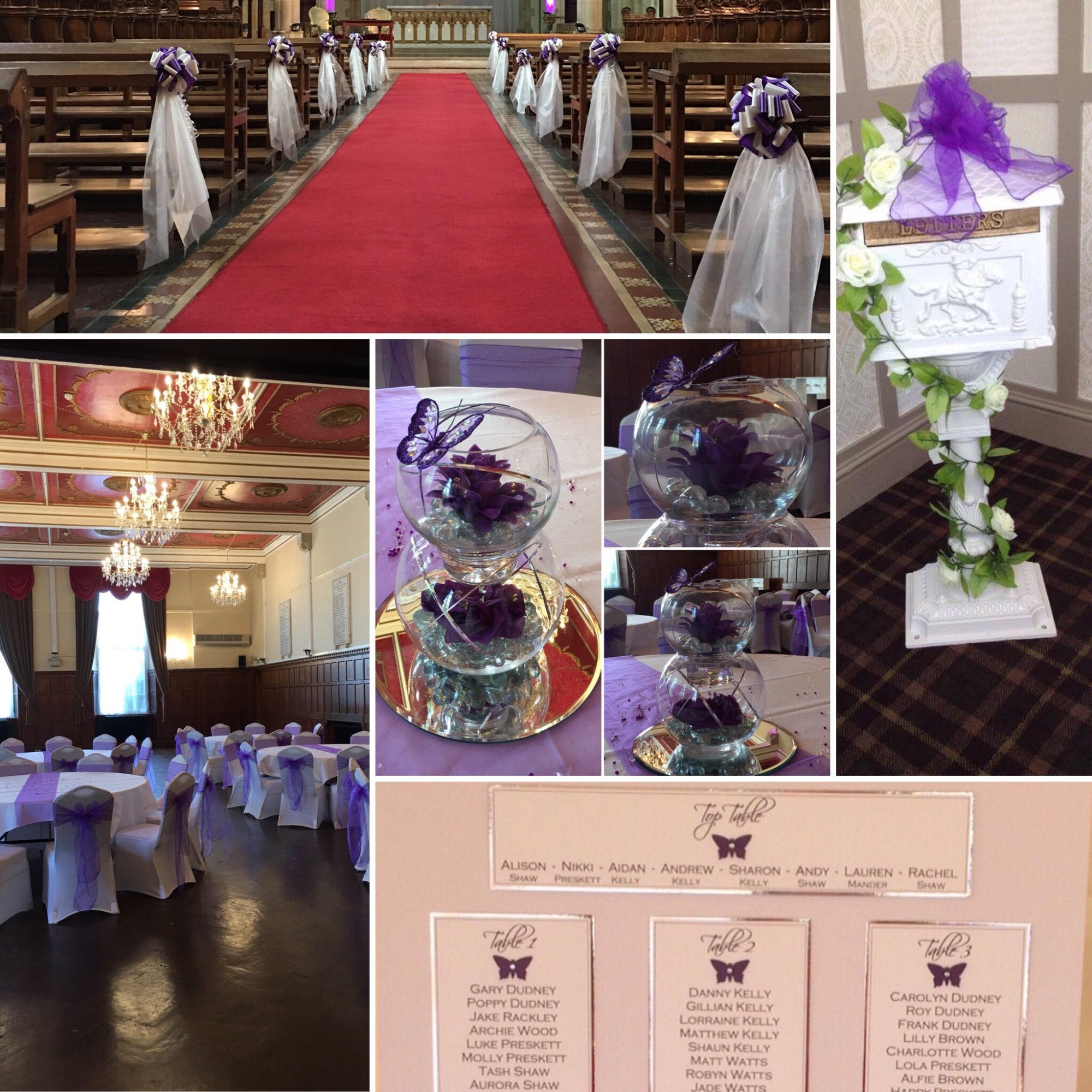 Package 6
80 chair covers with 1 sash bow
8 double fishbowls & mirror plate centre pieces & crystal table confetti
Organza table runners
10 x pew bow decorations
Post box hire
Wow popping balloon for first dance
Place cards & seating plan for 80 guests
Top & cake table dressed
Delivery & set up in the Thanet area £750.00
Package 7
100 chair covers & 1 sash bow
Cloud nine balloons behind top table
Top table & cake table dressed
10 Organza table runners
10 Double fishbowls & mirror plates or single bowls with 3 helium balloons centre pieces
Crystal table confetti
Post box hire
Wow popping balloon for first dance
Seating plan & place cards for 100 guest
100 organza favour bags with love hearts or sugared almond sweets
Delivery & set up in Thanet area £990.00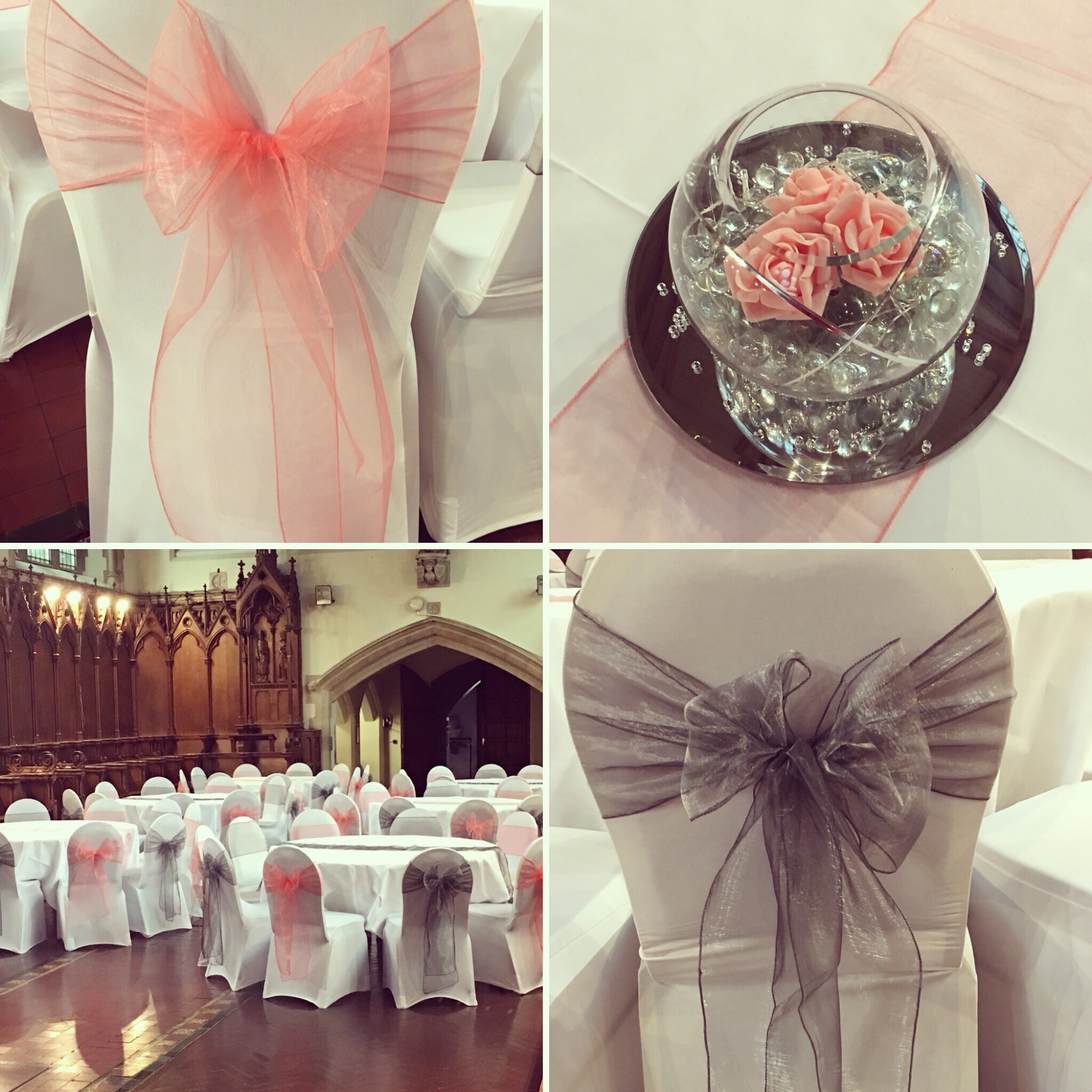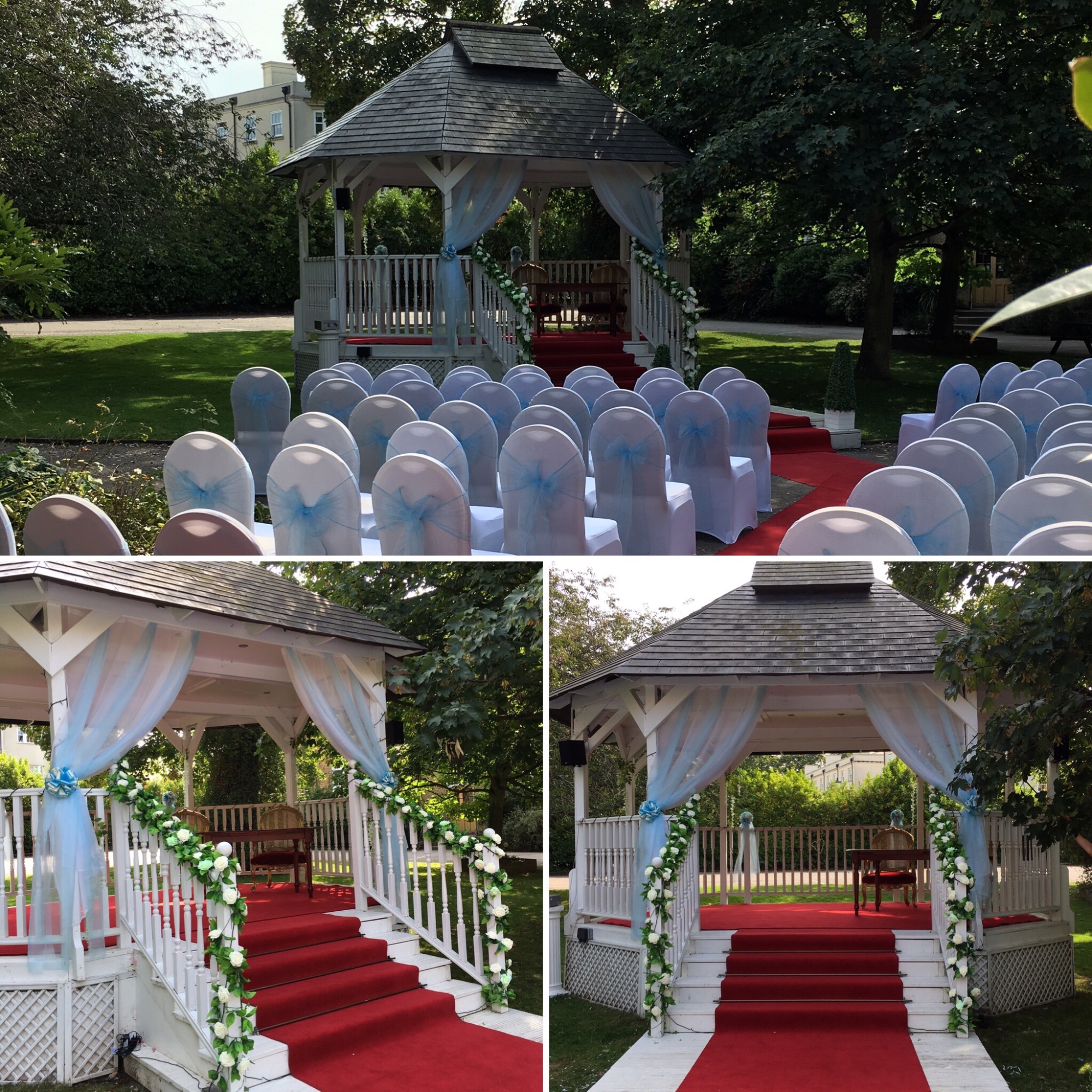 Package 8
100 Chair covers with double sash bows
Table runners
10 x hurricane vases centre pieces with candle/fairy / tea lights & flowers
Crystal table confetti
Seating plan & place cards for 100 guests
10 x Wedding cameras
Top ,cake & gift table dressed with swags & bows
Metal post box hire
Gazebo dressing
100 organza favour bags with love heart sweets or sugared almond sweets
Top table flower arrangement
Delivery & set up in Thanet area £1095.00
Individual prices
Stretch chair covers in black or white with single organza sash £2.95

Additional second colour or lace sash £0.45p, flower or butterfly £0.50p, diamante brooch £0.50

Single sash bows set up ( no chair cover) -£1.00 each

Fish bowl centre pieces with mirror plate and clear stones & silk flowers £8.95 hire

Fish bowl centre pieces with mirror plate plus 3 helium balloons and silk flowers - £15.45 hire

Fish bowl filled with sand, shells and candles with a mirror plate with crystals - £15.00 hire

Double Fish bowl filled with silk flowers with mirror plate and crystals -£18.00 hire

Top / buffet table balloon arch from - £42.50

Pew bows -£4.95 each
Cake table balloon arch from -£22.50
Sets of 3 helium balloons on a weight from -£6.25 a set
Set of 3 all double stuffed balloons & weight -£7.25 a set
Wow popping confetti balloon from -£55.00
Pew bows with satin ribbon bows and organza -£4.55 each
Mirror plate plus 3 tea lights -£5.00 hire

Personalised card post Box - £25.00

Metal post box hire choice from our range -£25.00

Top table and cake table swag & bow dressing - £40

Table runners from -£2.50+
Crystal confetti -£3.00 per table

Seating plans from £55.00+ for 50 guests

Place cards from £40.00+ for 50 guests

Gazebo decoration from - £25.00 / £50

Favour bags, filled with loveheart sweets or 5 sugared almonds - from £0.75p each

Disposable cameras - £3.25 each

Bubbles - all types - £0.65p each
We also work along side many realiable suppliers,who also work throughout the kent area and we can book their services for you, We can add their quotes to your package and combine all the supplies with your package creating a total package price for you. These services range from.......
Star light dance floors
Djs,
Lite up love letters & Mr & Mrs,
Cakes
Florist
Photographers.
Sweet cart
Casino tables
Please complete the form below and click the Send button to get in touch with us.
Thank you for submitting the contact form.