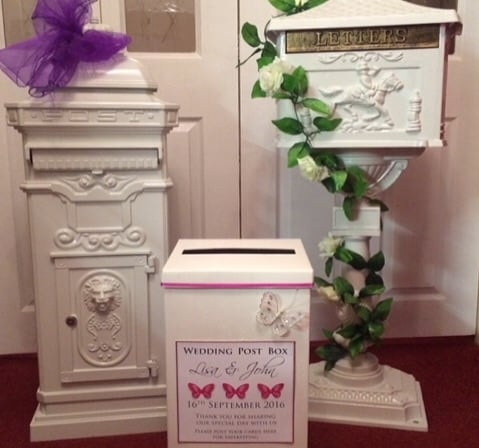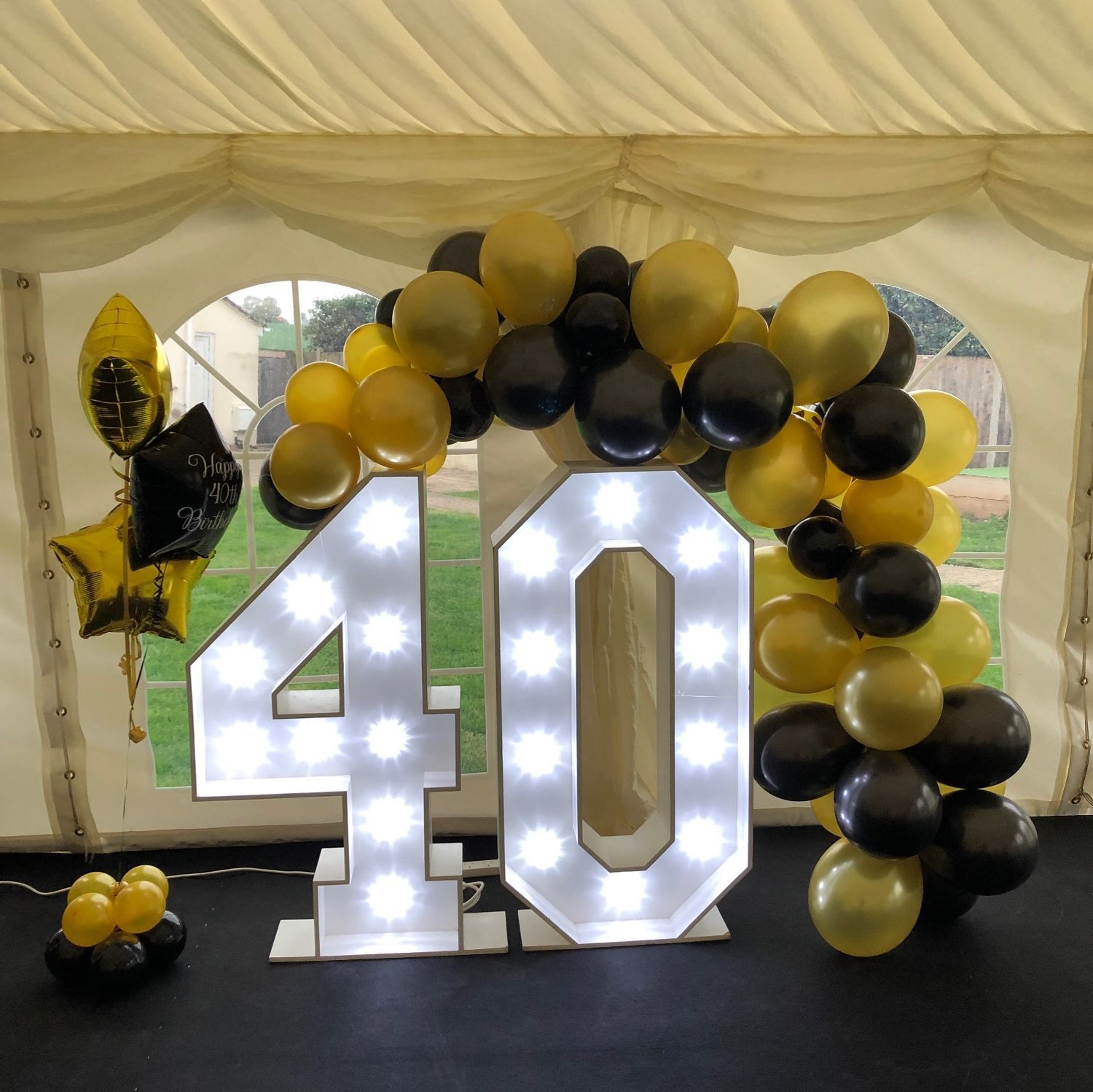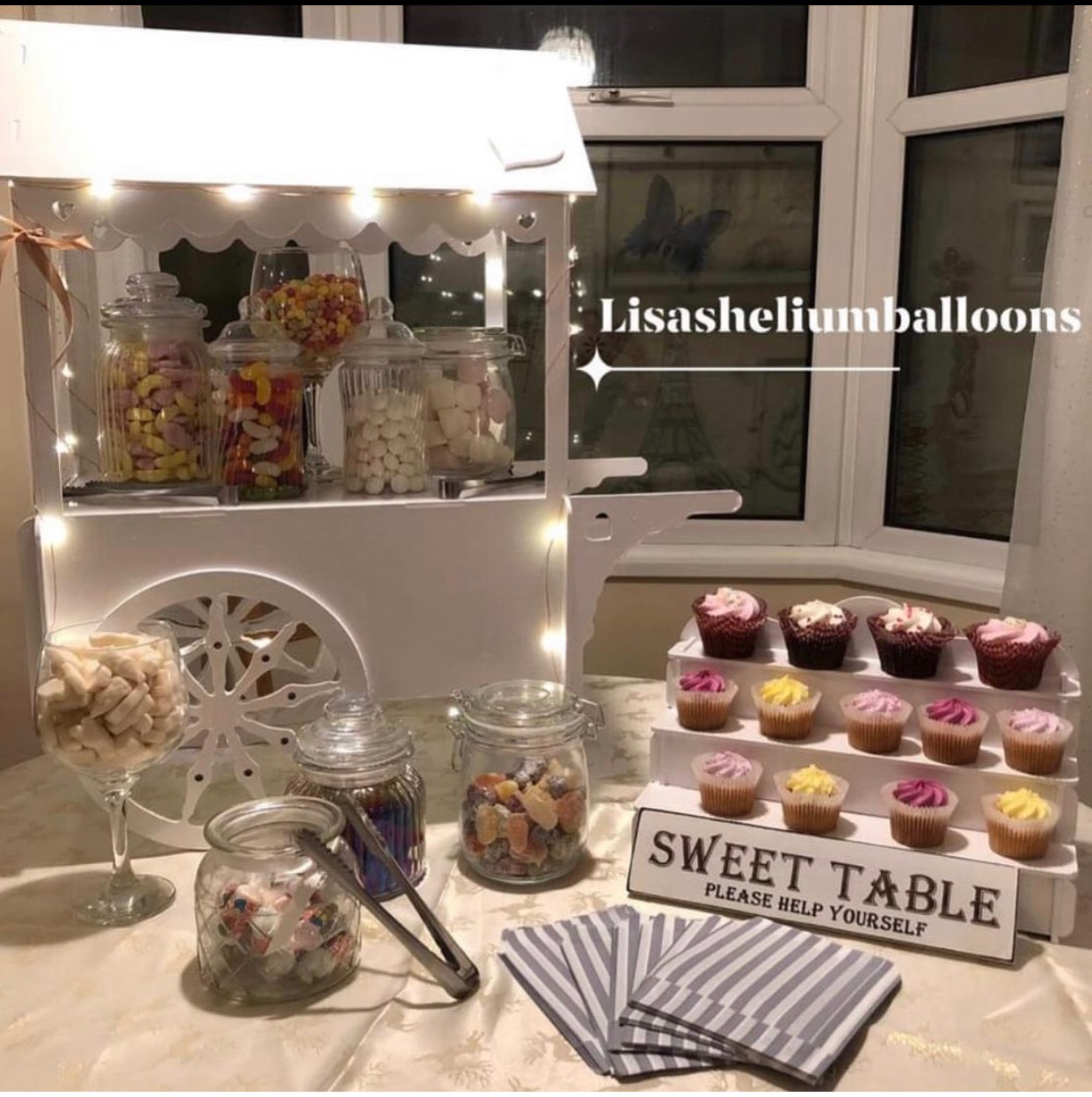 Let your style shine through in every detail. Whether rustic or glamorous, there are so many different and unique ways to reflect your own personal style in your party / wedding decor. The finishing touches are the bits that make the lasting memories- the favours, crystals, name cards the keep sakes.....The Fun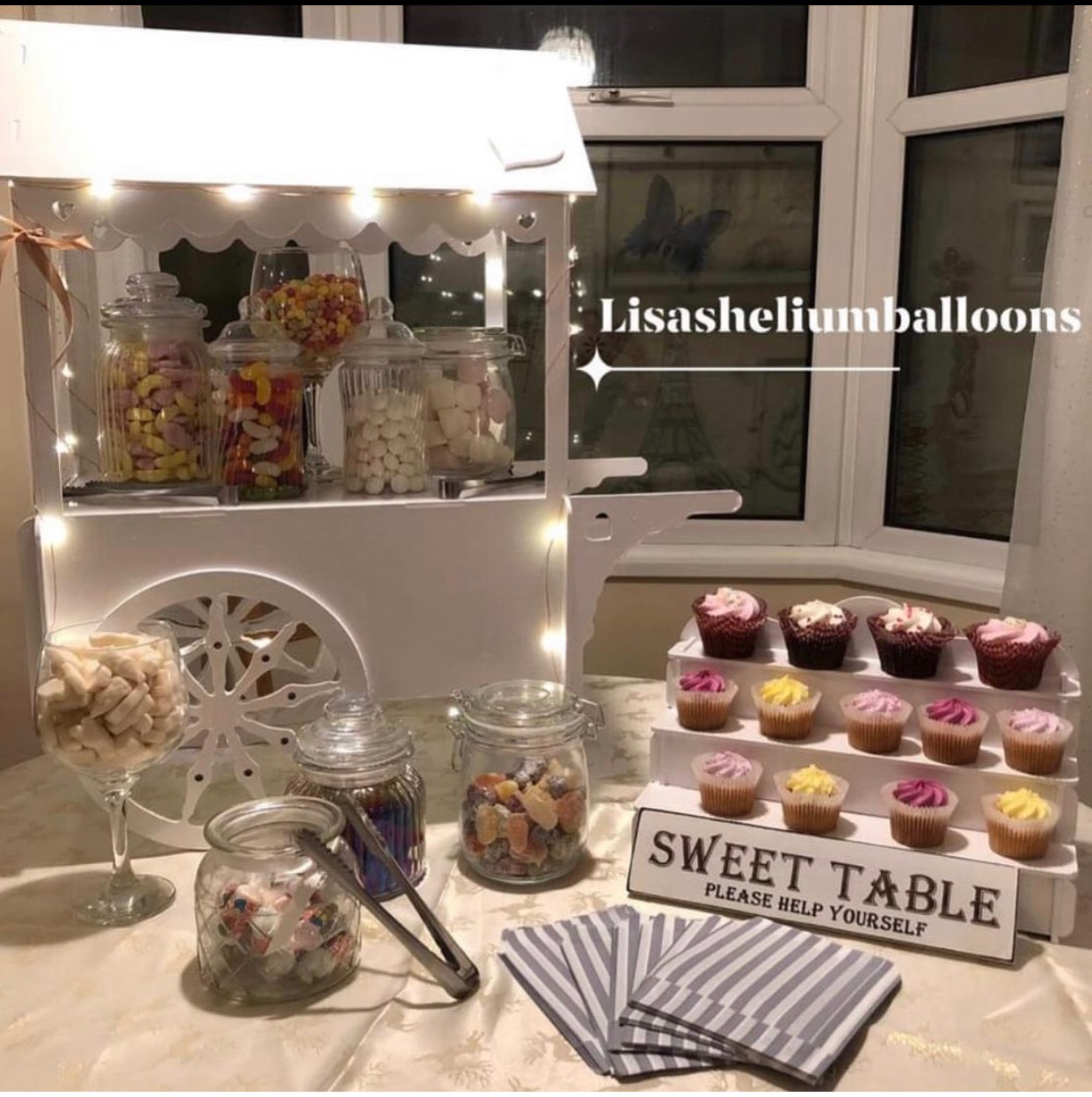 Table top Sweet Cart Hire- Our new table top sweet cart is perfect for the smaller functions for upto 50 guests.it comes with the cart and lights,10 jars of sweets,tongs,sweet bags and a sweet table sign. it looks great on a sweet / cake table. sweet cones are also available.
The mini cake stand is also available with mini cup cakes. ( cakes are purchased from a local supermarket ) or you can provide your own cakes.
sweet cart with lights
10 jars of sweets
tongs and sweet bags & sign
£50.00 (deposit required)
sweet cart hire,sign,tongs,bags & cake stand & 15 mini cakes its £65.00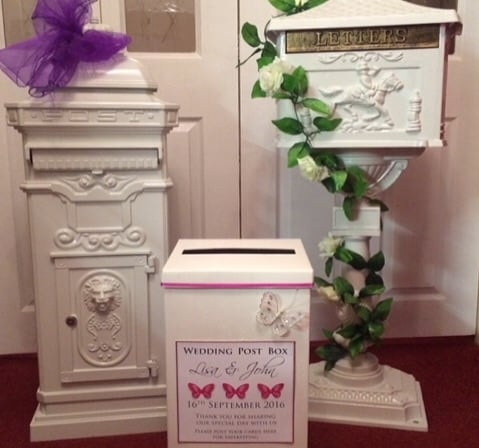 Post Boxes- Hire our gorgeous Rustic White & Gold post boxes. Whether your event theme is rustic, vintage or shabby chic these beautiful post boxes are the perfect addition to your decorations. Both with a lock and key to keep your cards & gifts safe but to also give you a look of elegance to your function. They can be dressed with flowers,garlands,butterflies or organza bows to match your theme.
Metal post box hire £30 plus a holding deposit.
Card post box personalised £25.00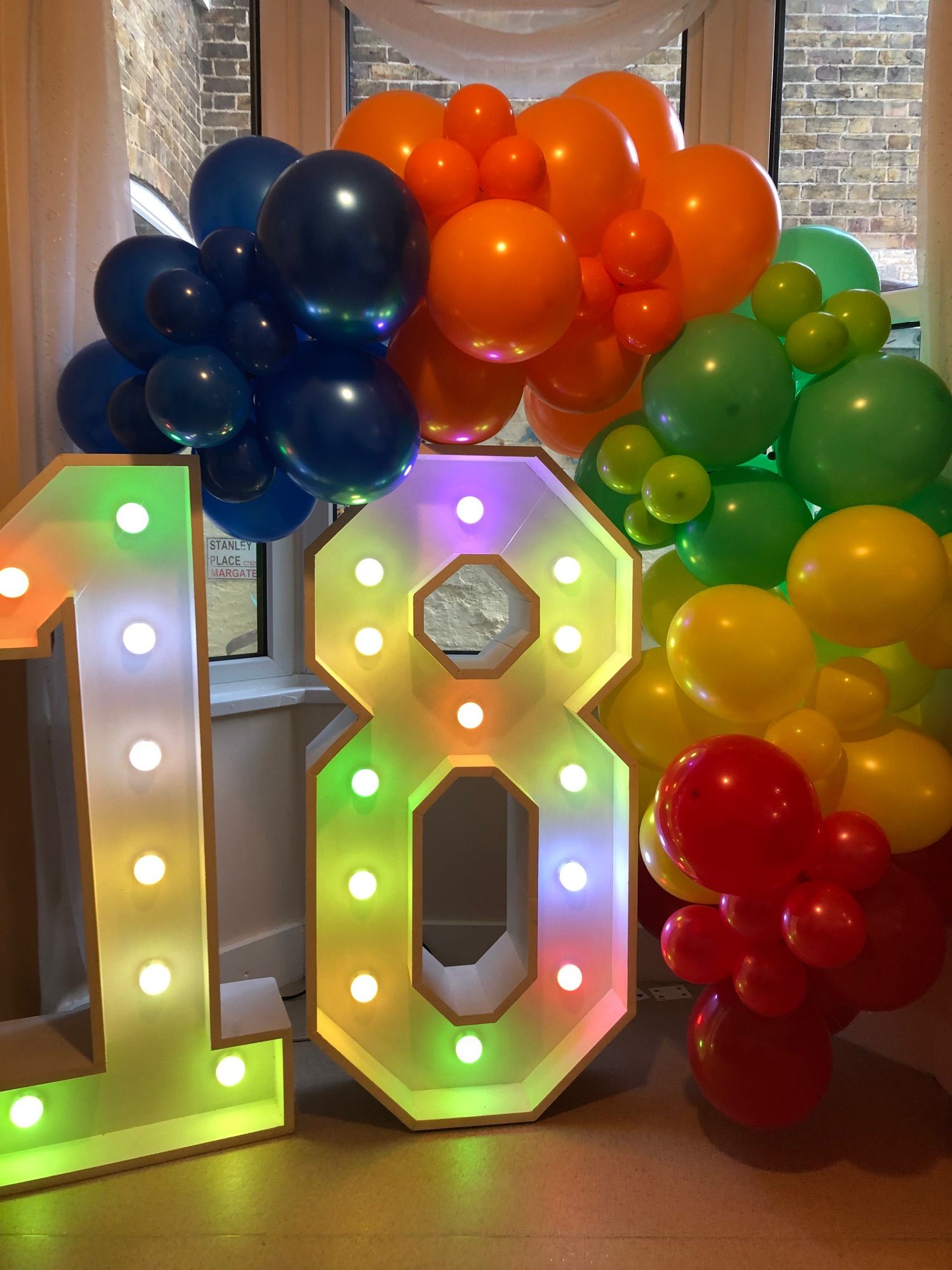 Light up Number Hire- These 4ft light up numbers look stunning in any age as a focal point to any party or at home. Available in age 0-9 with changing colours of your choice. The balloon garlands also compliment the numbers and also in your chosen colours. delivery may apply..
single number hire with garland £65.00
double numbers hire with balloon garland £145.00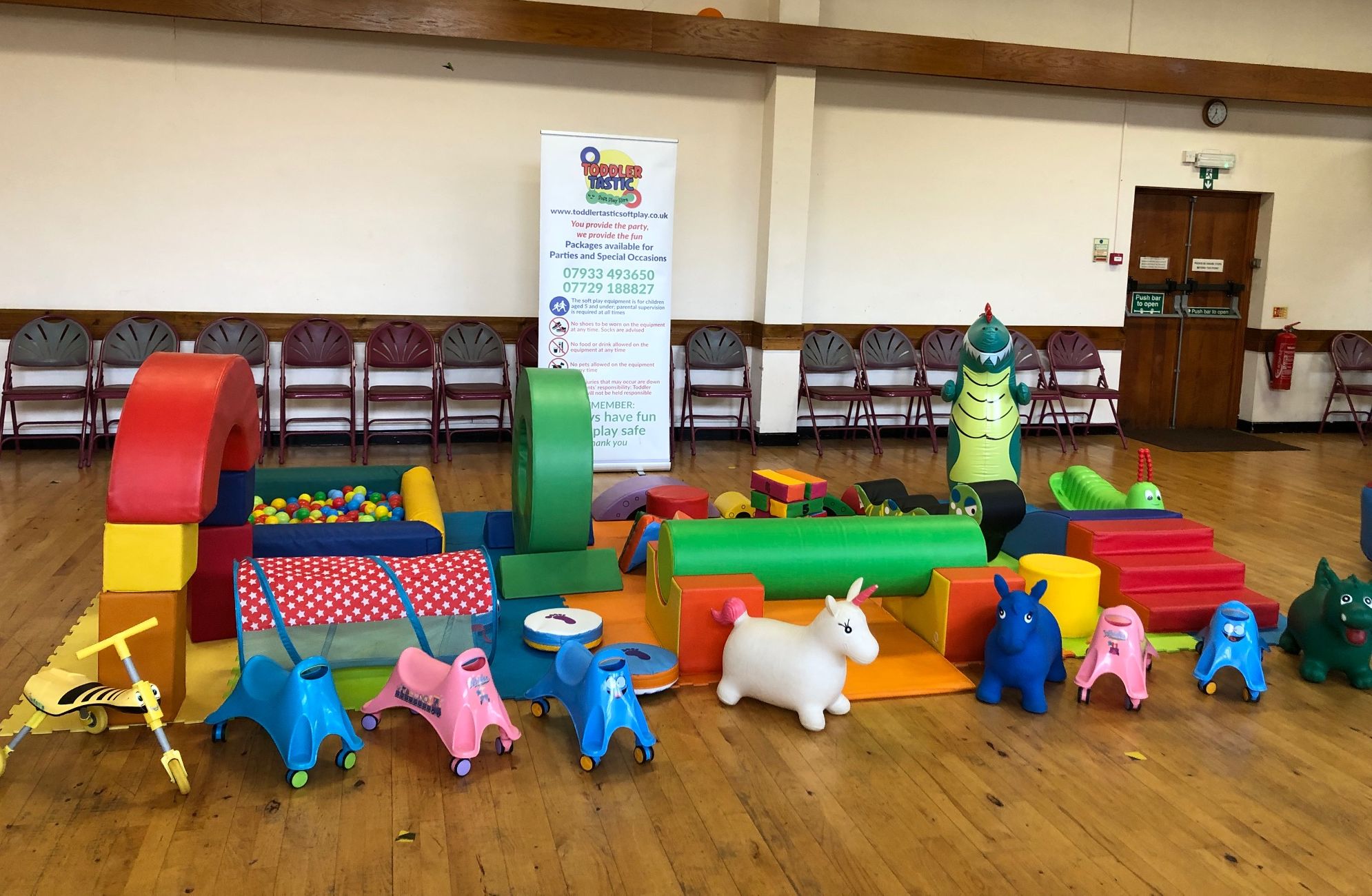 Soft Play & Bouncy castle Hire- Soft play for under 5s is now available for hire, with 3 packages to pick from. its perfect for a childs party/christening/playdate or a wedding to keep the children entertained. fully insured and cleaned between every hire.
Packages start from £50/90/140
Bouncy castle £65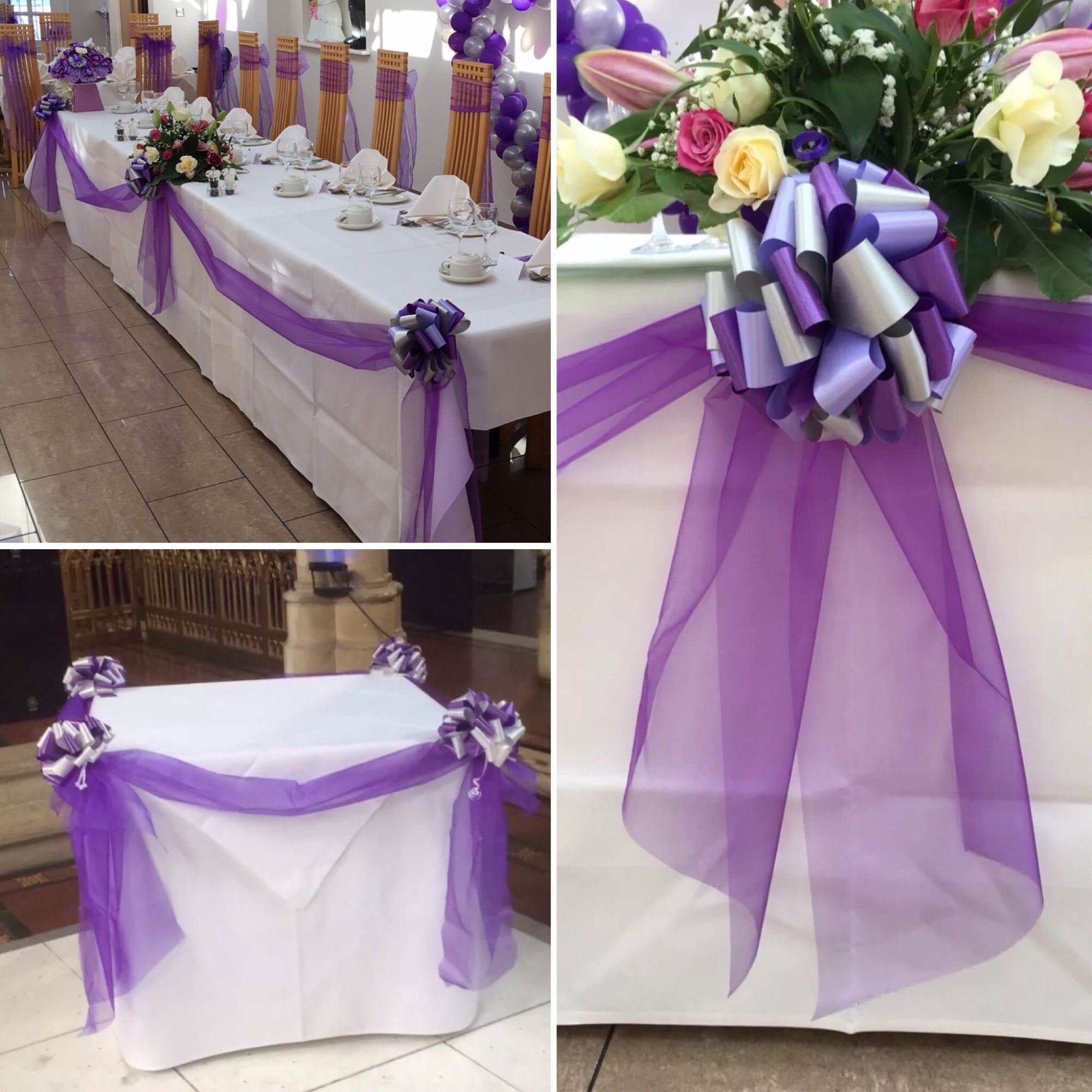 Table dressing kits- Top,cake & buffet tables look amazing when dressed with these. beautiful bows. Handmade with 2" satin ribbons in your choice of upto 3 colours and 8 meters of sheer organza to create the swags. They really make your tables stand out and look stunning, The bows take time to hand craft therefore please order in good time, For postal orders the kit comes with full instructions on how to set up. The bows will arrive fully made ready to fit so nothing for you to do.
Cake table swag & bows
Top/buffet table swag & bows
Ex large top table swags & bows
Starting from £16.00. Please contact for size and quotes.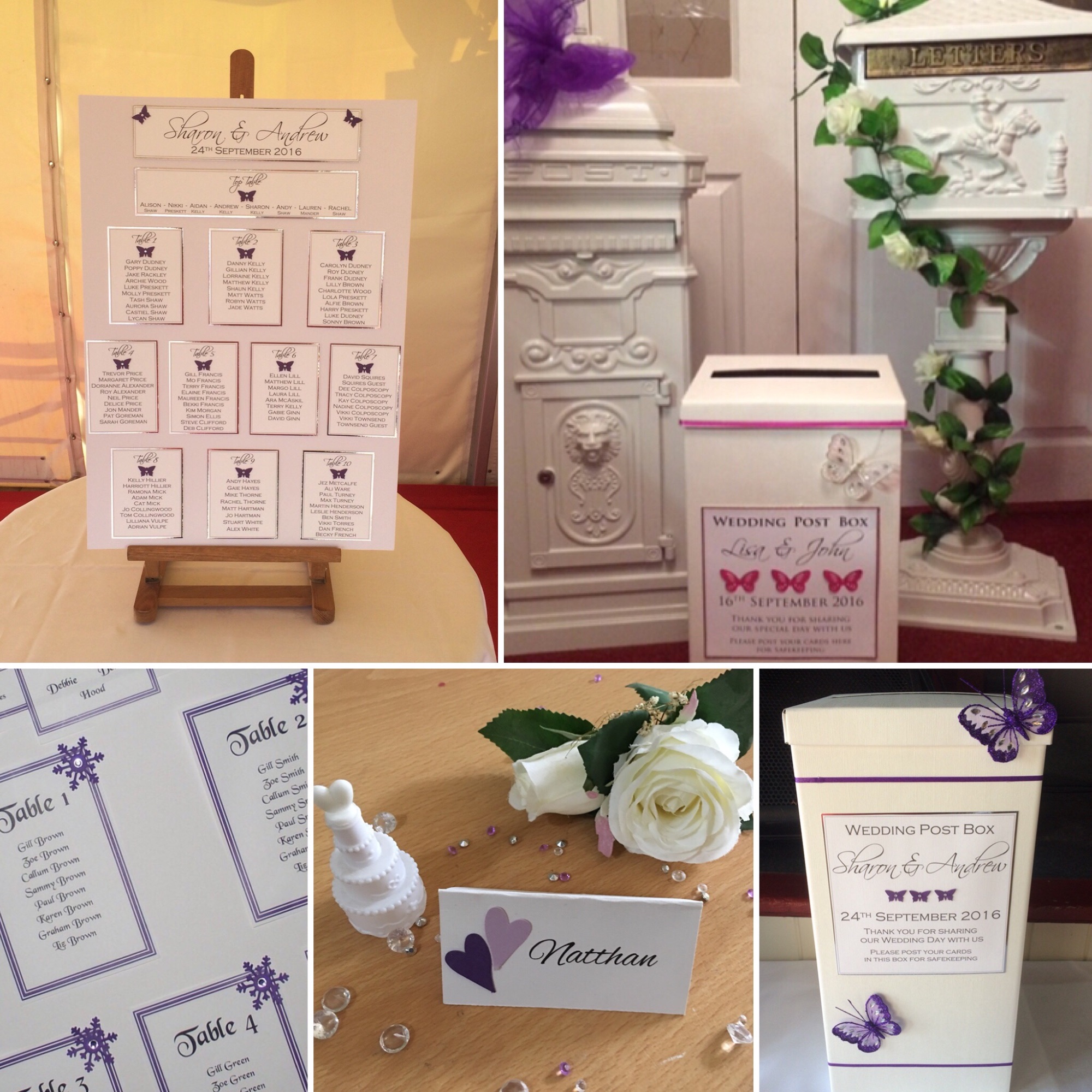 Wedding / Party stationery - Organise your guests with one of our stylish Table Plans. They come in a range of different sizes and can be printed with all your guests names so you can be sure everyone knows where they are sitting on your special day. Along with the seating plan we offer a range of matching, place cards, table names or numbers and card post box. They are made in your chosen colours and themes, butterflies or flowers hearts, beach theme or whatever your looking for. Just send me a message with your theme and numbers and im sure we will be able to make something that's suitable for you.
Seating plans for up to 50 guests £60.00
Seating plan for up to 100 guests.£80.00
Place cards start from £40 for 50 cards all made to match your seating plan.
Personalised table names or numbers are £3.95 per table.
Seating plan frame £14.50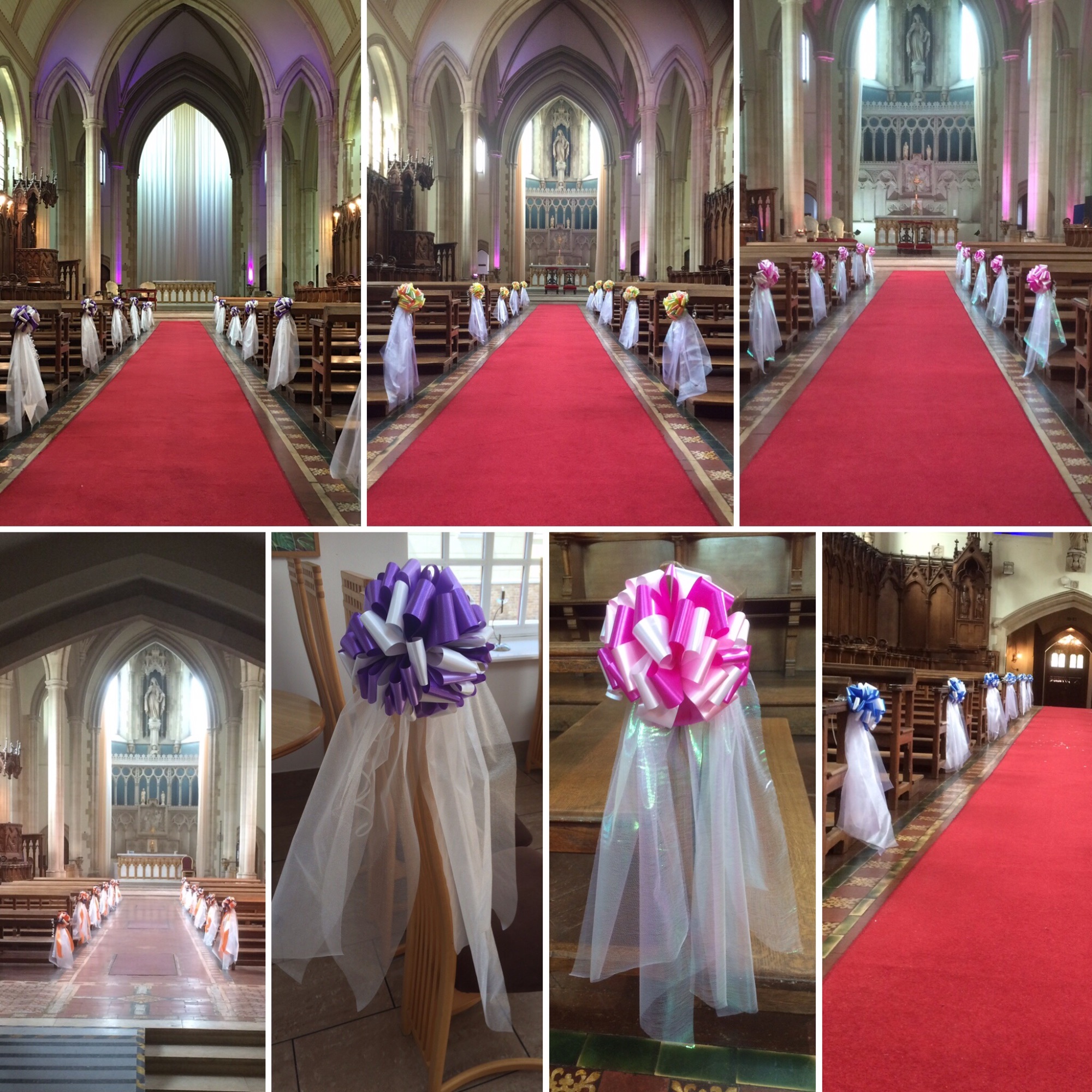 Pew Bows- Beautiful wedding pew bows handmade with 2" satin ribbons in your choice of upto 3 colours with 2 layers of pure organza. They really make your aisle stand out and look stunning. A beautiful way to add class to your wedding venue, without paying a high price. These Bows can be attached anywhere-Pew Ends, Stairwells and Gazebos.. Each bow is approx 8" diameter. The bows take time to hand craft- therefore please order in good time.
£5.50 each
10 Pew bows £55.50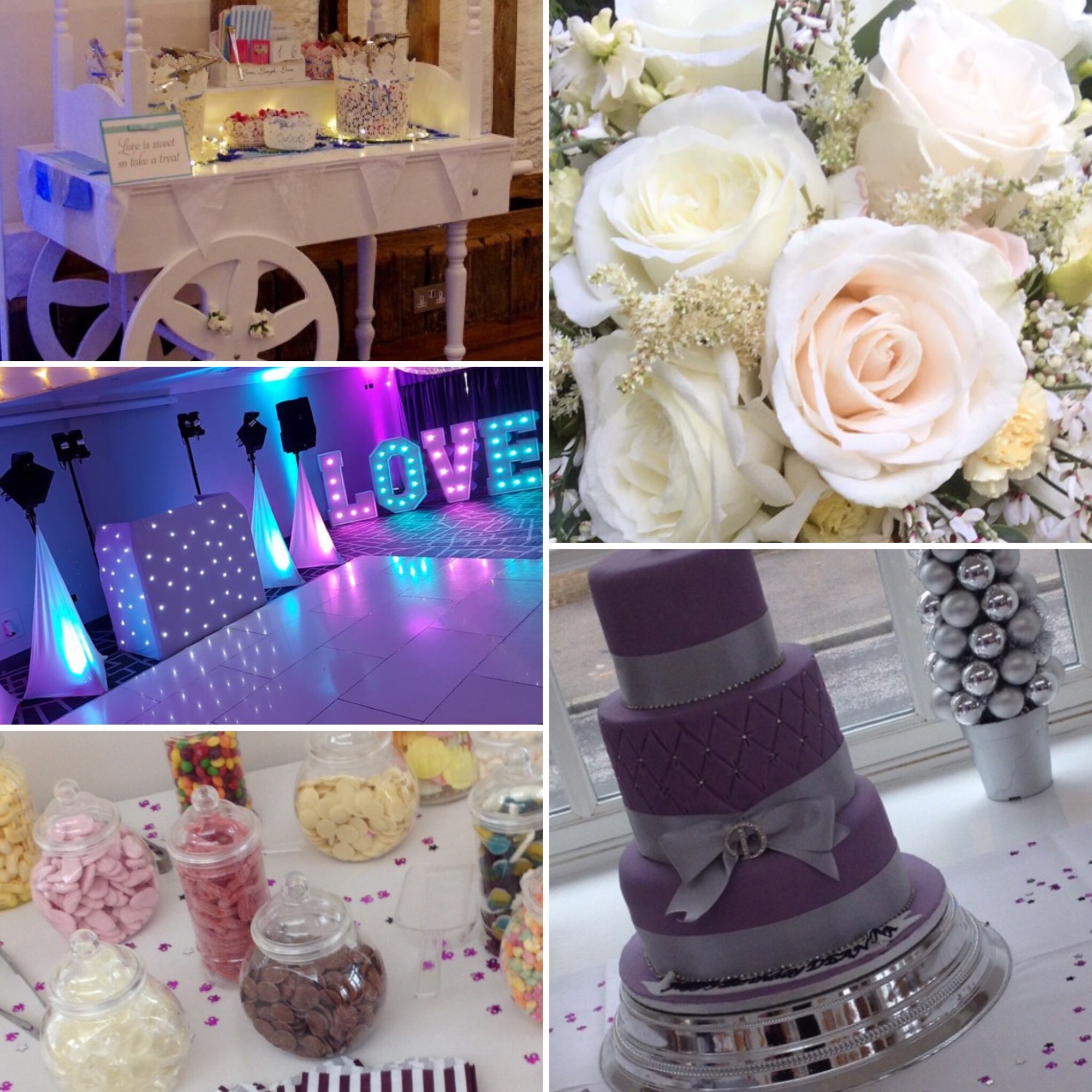 We also work alongside many realiable suppliers, who also work throughout the Kent area and we can book their services for you. We can add their quotes to your package and combine all the supplies with your package creating a total package price for you. Just let me know what your looking for and we can get all the quotes for you. Many of our couples have found this serices very helpful as it creates a one stop shop for all your wedding / party items.r
These services range from..
light up numbers & balloon garlands
Softplay for under 5s
DJs children/adult party
bouncy castle
sweetcart
chocolate fountain
Lite up love letters
Cakes
Florist
Photographers.
Sweet cart
Ferrero rocher heart
Ice cream van
Casino tables
Magic mirror
Photo booth
starlight dance floor